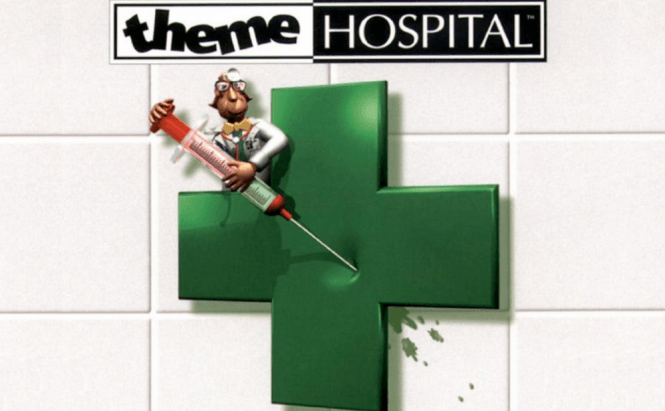 Theme Hospital
It's been awhile since we talked about computer games. So here we go – I will talk about an old classic Theme Hospital. This game was developed in 1997 but I still see some people playing it – it is that good. In fact, while researching the game a little bit I've found out that some hard core fans are actually trying to create an open source port of the game – updating it to the modern computers and planning to upgrade its functionality. All of this is in this article.
Theme Hospital: Booting Screen
Back in the days when personal computers had more power than game consoles of that time, most people played games on their computers. Now, hardly anyone is using their electronic typewriter with connection to the Internet to play games and they do not need to... The game consoles can process graphics faster, they have better games, and their joystick is way more convenient than the modern keyboard (assuming not many would buy a gaming keyboard for their PCs). Back then, a mouse with a rolling ball and a keyboard is all you needed to submerge into a Universe where you are God. In this game you are God in just one way – you can do whatever you want to your hospital's property, you get to hire and fire personnel at your discretion, and you get to chose whom to help and who will be dissected in the name of truth and knowledge at the Research Department. In each level of this game you get to manage a Hospital. This is a tycoon type of a game – build and manage your own hospital, achieve a certain goal and move on to building and managing another hospital with patients who have even funnier and more ridiculous illnesses than in the previous level.
Theme Hospital: The Main Window, Offices, Clinics, and Patients
In your new position you have a certain amount of money and one building, where you can build various offices and clinics – GP Office, General Diagnosis Office, Staff Room, Research Department, as well as, Slack Tong Clinic, Bloated Head Clinic, Cast Removal Clinic and so on. To keep players interested the developers designed the game the way that something new is added with every newer level of the game - new diagnosis machines, such as X-Ray or a Scanner or new Clinics (outlined above) – all available from the research that is performed by, wait for it, wait for it – the Research Department. Missions become harder and longer to accomplish and earthquakes start to happen. All of the equipment has to be repaired and eventually replaced otherwise the whole room will be unrecoverable due to smoke and rubble. The staff and patients also judge your hospital based on how comfortable and how nicely they are dealt with in there. Depending on the conditions they might leave your premises angry which negatively affects your reputation. If you reputation falls below a certain level – you're done, you are fired from your position. You might even have to start from the very beginning – therefore it is important to save your states. This way you can quickly return to the state where you can plan your hospital a little bit more carefully and anticipate what's coming to you averting your failure.
Theme Hospital: Policy Chart
From what I've read on various websites, the game, if you were lucky enough and found a place where you can purchase or download the game's image, should be working even under Windows 7. You see, Microsoft's latest (officially released) operating system supports compatibility feature allowing you to run applications designed for older versions of the popular operating system. Maybe because I've got a bad version of the game or maybe because it was designed with DOS in mind, the play isn't all that glamorous – some colors are faded or completely washed out, there is a rainbow of colors where shadows are supposed to be, and sometimes, very randomly, the game just freezes and quits. It is somewhat frustrating but possible to get used to, especially considering that it is done in the name of old classic fun!
P.S. Tonight as a reward for finishing this article, I will try to use a different source code of the game or one of 'them' open source ports of the game.
Theme Hospital: Level's Progress Chart
There are quite a few fans in the world that grew up with this game and they are anxious to keep playing it in the present time. Since the modern hardware and software makes it problematic to play this game with its outdated specs and no one is going to re-develop and re-code the game, enthusiasts decided to port the old version and possibly add some tweaks to it. Over the years, there were a few open source projects that were aiming to reviving this game on their machines. And to tell you the truth it works – with some bugs that are going to be fixed, but it works. I am talking about CorsixTH open source port of the game. As recent as September 24th, 2011 the team has released Beta8 of their wrapper – a program that uses game's original files and data but wrapped in jolly goodness and displayed on your computer, whether it is Mac, Windows or Linux system. That wrapper adds and fixes some certain features of the game, as well as, introduces a couple of bugs (such as other competing hospitals do not get any patients visiting them)... but what do you expect from a Beta? I am sure the guys will fix this in the upcoming releases. I used the wrapper to play the game on Linux and the game play is very smooth and outstanding - It definitely is bringing up the old happy memories.
Theme Hospital: Next Level, A Job Offer
In short, this is a great game and it captivated millions of people around the world for hours in front of their computers. A very funny and, yet, very challenging gameplay is expected from this game. It's been out for the last 15 years but I am yet to complete all of the levels. Wish me luck! And Good Luck to you in case you decide to check it out too.