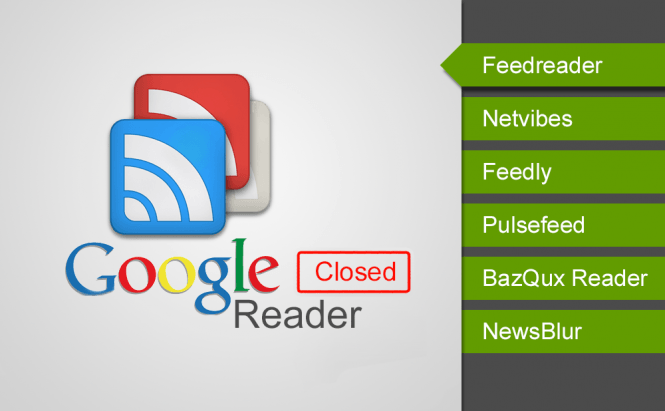 The Best Alternatives to Google Reader
Many of us are very upset to learn about Google Reader, the most popular RSS aggregator on the web, being discontinued. We have been accustomed to its user-friendly interface, high speed, and especially to its mobile version. It allowed us to synchronize any feeds activity on smartphones with the Google Reader's web interface.
However, there is no need to panic. Users of the service will be able to save their RSS databases and subsequently use them in their Google Plus accounts, or import them into other services. The latter opportunity, unfortunately, doesn't seem to be very attractive because your feeds will be integrated into a new interface, full of unnecessary options and looking very similar to a social network web page.
If we try searching for another alternative on the web, we can find out too many offers available. That makes us think about what we do expect from such a service. Let's consider some worthy alternatives for our favorite Google Reader.
Feedreader Online brings a simplistic, but convenient interface for merging your subscriptions into a single stream. It features a player that allows playing back all your audio and video podcasts. Moreover, a recently released tool, Feedreader Lookup, will enable to search for new feeds on a specific topic, and view some details of them before you decide whether to add the found feeds to your list, or not. Also the support for importing Google Reader feeds has been recently added, so that Google Reader users can move their databases to this service now. Unfortunately, there is no mobile version developed yet. However, PC users can try a small Windows client that lets them handle all feeds, categorize them and quickly get all updates right to the desktop. Finally, the fact that the service is free might attract many users.
Feedreader online
BazQux Reader is a paid service with a trial period of 30 day, and a subscription fee of $9 per year. It offers a user-friendly interface, and it is very fast both in terms of feed updates and user interface. The service also benefits support for importing subscription databases, and sharing your posts and comments via the most popular social networks. Among the disadvantages we may note a lack of settings; no optimization for high resolution devices; posts can be marked read when you scroll, but not on click. Anyway, this service seems to be very attractive and it worth to try.
BazQux Reader: View Comments to an Article
Feedly is not an online reader, it's an extension available for Firefox, Google Chrome, iOS and Android. With it, Google Reader users should just click the button in order to sync their accounts both in your PC or mobile phone. Trickity-wickety-wack, here your feeds are. Unluckily, there's no option like 'Unfold', all feeds can be read in an extended mode only. In addition, the tagged feeds search is missing. As for the interface, at first it doesn't look too pretty but it's highly customizable: just choose among different themes and change settings according to your preferences. In conclusion, you can try this reader and evaluate how quick it can change items and refresh news.
Feedly: Featured Articles View
NewsBlur has two versions: free and paid ($24 per year). Free Account lets you view up to 12 sites and only 10 feeds at once whereas Premium Account allows following the unlimited number of sites and viewing all feeds at a time. Before logging in, you can give this service a try to see a number of features. But then it takes a while to log in. Also it's stated to sync all items with Google Reader, but it actually doesn't seem so. At least, we didn't succeed.
Newsblur: Evaluation Mode
Pulsefeed is a very simple news aggregator with the detailed Help section. The RSS web feed is closely connected with Facebook and Twitter. It is free so if you have enough time and patience, you can save feeds from Google in the OPML format and import it here. Pulsefeed casts itself as a personalized magazine where you are the editor-in-chief. Nothing special: you can add any content to your collection by inserting URL of an interesting item or choose among three sections: 'Popular', 'Newest' and 'All'. If you don't want to read the feed immediately, just postpone it 'Read it later'. The interface is highly demonstrative: even first-time users will find no difficulties dealing with it.
Pulsefeed: Topics' Browser
Netvibes provides an ability to generate personal dashboards where you can monitor all your information, such as apps, news, blogs, and more in the most convenient way. Its interface design may be considered as the most outstanding one among the other similar services. What's more, two kind of views, Widget and Reader, are available. Furthermore, it features some built-in modules: an RSS/Atom feed reader, local weather forecasts, a calendar supporting iCal, bookmarks, notes, to-do lists, multiple searches, support for POP3, IMAP4 email, as well as web storage like Box.net. The service has a free version that offers some basic features as well as a mobile client.
Netvibes: Widget View
To sum it all up, what we can see now are lots of new RSS readers' developers that can offer us different products with lots of interesting features. Maybe, it is not an easy task to find the best replacement of Google Reader, but this unexpected news about it closing down has encouraged developers to speed up their work on improving their services. It seems that there is already an active struggle for the customers on this market. However, this will surely bring us, the regular users, only benefits, because every competition might lead to developing many new features, and maybe, even some new forms of feed reading on the web in the foreseeable future.