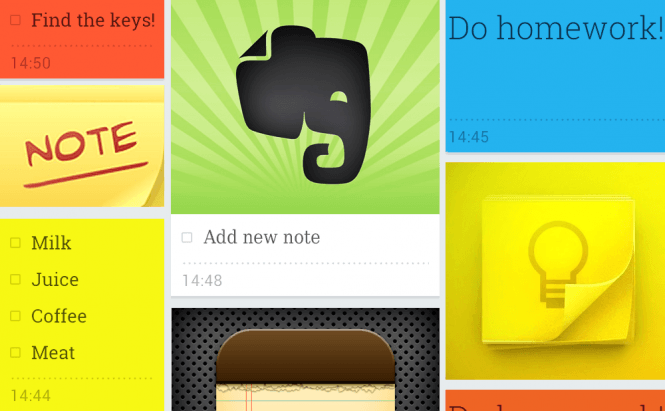 Taking Notes Can't Be Easier: Best Note Apps and Services
''Buy Tom, pick up milk after school, water cats, feed flowers...'' sounds weird, doesn't it? Well, almost every person at least once in their life has faced a situation when they actually can't remember whom to pick up after school and what to buy. It's no wonder that such things happen: after all, human memory is extremely unreliable. But what can you do? With our life getting overrun with same tedious tasks, taking notes is the only way to simplify things a bit. Good news is that we can keep notes on our phones. There are hundreds upon thousands of such applications, so sooner or later you'll face the inevitable question: which one to choose? I'll try to help you make a decision by giving you a taste of a few most popular 'note taking' apps.
It's a new Google project that was launched just a month ago and has already become one of the most popular apps for keeping notes. What are the key ingredients of its success? Simplicity, simplicity, and simplicity. No complicated settings, no need to save anything manually, no fancy features that you'll never use – what can be better?
When you first run it you'll see a very minimalistic main window. It may seem a bit boring at first, but that's part of the idea: you are the designer of your Keep list. What I mean is, when you create a note, you also choose its color, add a photo, and the end result is shown in the window at all times. You don't need to open a note to view it, so note by note you create something absolutely unique, something that is 100% yours. And you can share any of your notes with your friends via any social service or e-mail.
Google Keep
Still, there's no denying that Google Keep lacks several useful features: for instance, you can't add existing pictures from your gallery, you can only take a new photo. It would also be nice if you could draw what's on your mind. And my personal peeve is that there's no way to set a reminder to your notes. We'll have to wait for all that.
This app was developed about five years ago by Stepan Panchikov. It is a very popular note taking and archiving application that is available for almost any platform.
EverNote
After installing it, I was a bit disoriented by the interface; probably that was caused by the diversity of settings and functions, which made me feel slightly confused about what I should do first. Actually, this app is something completely different from what I experienced in Google Keep. Evernote is much more advanced: while creating a new note, you can format the text (making it bold or italic, but you can't change the default black color), you can attach any files (like pictures, audio and video), scan and OCR documents, and you can run ''Skitch'' - which lets you sketch up something new, mark up maps and photos, etc. All your notes are automatically synchronized under your personal account, which is also a good point. And if you pay for the Premium version, you'll find even more functions. Depending on how many of these you expect to use, you may call Evernote either full-featured, or overly cumbersome.
Notepad is a very simple application, but this time the simplicity turns out to be the app's biggest downfall. When you run it and see that ugly yellow background (thank God you can change it), with an ugly Add Note button on it, you just know it's not going to cut it. Anyway, when you click to add a new note, you can choose among Note, Picture, Photo, Phototext, etc. The drawing interface (accessible when you pick Picture) is rather decent and it has all necessary tools to sketch up something simple. What I don't like personally is that you can only edit a note's title from the main window, and that the app doesn't allow you to set reminders (much like Keep). In the end, I came to the conclusion that this app is okay for taking notes and occasional drawing, but it doesn't let you do much, and its simplicity is not eye-catching at all.
NotePad
ColorNote is quite similar to Notepad. The main window looks quite boring, and the dark-blue and gray palette doesn't make it any more attractive. The process of making notes doesn't impress as well: you can choose to create either a text note or a checklist, and you can pick the color of the left side of your note (why only one part of the note and not the whole note at once is anyone's guess). There's a calendar for you to add an event for a particular day, but you already have a calendar in your phone. To put it mildly, I don't find this application useful at all.
ColorNote
Impressions
Incredible ideas, important events - these make up our life, and we need a place to store them. I think both Evernote and Google Keep offer everything you can think of in terms of saving notes. It's almost impossible to compare them objectively as they're quite different, and the right choice is wholly yours because only you know what you want to get: a quick and visual interface, or a more advanced one with a large number of features. Don't hesitate, try out both of them: there's so much to be writing down afterward.