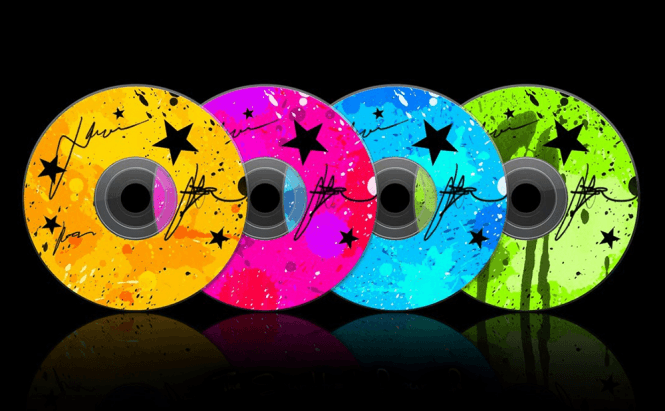 Pick the Best App for CD Labeling
When I was a kid, I used to create my own CD collections made up of the top hits of that time. To avoid confusion later on, I arranged my compilations in order and labeled them with a traditional permanent marker; it did the job, but the process was taking quite a lot of my time. Luckily, now there is a good deal of applications to facilitate the whole labeling process, so having one of them at hand is a really good idea.
Acoustica CD/DVD Label Maker
Acoustica CD/DVD Label Maker
Topping our list, Acoustica CD/DVD Label Maker offers an easy way to generate your own labels for optical discs and jewel cases. Its easy and flexible design tools make designing labels a very quick and easy process. The software provides over 500 ready-made templates, and in case none of those takes your fancy, you can upload your own images and apply them as labels. Those who often forget which songs are stored on which disc can set the application to create a track list on the label. The resulting label can be printed on standard paper, stickers, or directly onto the disc.
Label Design Studio
Label Design Studio
This versatile label designer allows you not only to index your music or video compilations, but also do a plethora of other labeling-related things. Label Design Studio offers a really extensive list of design features and ready-to-go templates to choose from for creating any type of labels, except maybe ones for bottles and jars. Besides, the application comes with a wide range of preset images and customizable design options, giving you a lot of freedom and letting you use your imagination regardless of your artistic ability.
Memorex exPressit Label Design Studio
Memorex exPressit Label Design Studio
Memorex exPressit Label Design Studio is another label creation application I'd recommend giving a go. The program enables you to design professional-looking labels for your CDs, DVDs, jewel cases, DVD storage cases, and even iPods. All you need to do is think outside the box and demonstrate your creative abilities. The program offers 15 ready-made templates, which should really help you if you're short on time. And if you want to be sure that your label will look perfect after printing, you can use the built-in print calibration tool.
As far as I'm concerned, it's really good practice to use specialized software to organize your collections of self-made CDs and DVDs: creating fancy covers and designs for those discs is a fun process in its own right, and it's extremely useful too. So if you have some other apps on your mind that you could recommend, you know, you're always welcome.