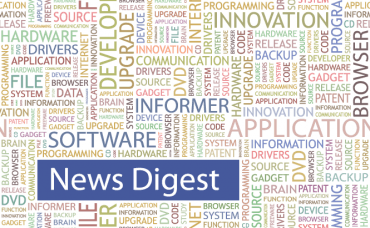 News Digest #5. Request
A new week means a new digest. What are we going to discuss this time?
In my opinion, the end of this summer turned out to be full of vinegar, especially in terms of our Windows subject. Ha-ha, I'm just joking. No news about Windows, absolutely! And that's ve-e-ery unusual and even, I would say, suspicious. So, that is the reason for me to apologize for the delay in publishing this article, as I was waiting for at least some valuable issues on our topic to appear. Unfortunately, my expectations failed.
News Digest
It seems that the whole world has turned its face to Apple. Good old Stevie has played another Old Harry with his fans. I would even say, more with his enemies and rivals. But.. who knows why it all is happening.
On Wednesday the Internet burst out: Steve Jobs, the founder and CEO of Apple, has resigned! The decision was made due to his poor health. What shall we do now, without this devilish genius? Jobs has always been regarded as the core of the company. Without him Apple will go scat, sceptics predict. And those predictions are not bare allegations, by the way. Do you remember Apple after and before the era of Jobs, say, in the early 1990s? Yes, that's what I mean. Nobody remembers.
I confess, at first I looked quite askance at the whole situation. It looked as if Apple, tired of all the lawsuits and supplier searches, simply decided to run another session of its rating boost. The mob of fans managed to convince me otherwise. Now I actually feel compassion, as we all know Jobs underwent a serious surgery, and since then his health was getting worse and worse.. The media began to pounce him like hawks, revealing shocking details of his private life.
The man founded the company. Then he was forced to leave. Then he was forced to come back, as without him the business just went amiss. He worked for the salary of $1 per year (notwithstanding that he owned around $5 bln in shares). Many think of him as of the most charismatic and charming leader in the sphere. And I would agree. Every time he appeared in sight, we expected something grand. He revolutionized the whole industry; he rendered another shelter for the money of those status-concerned. With Jobs at the helm, Apple, Mac and iDevices became somewhat of idols.
In my opinion, however sly and talented the newly assigned CEO Tim Cook is, and whatever he promises, Apple will not manage to remain the same. Half of the company's goodwill was based on Jobs' image, on his love for beauty and perfection. He was the person to introduce the first 'beautiful' personal computers (remember those 'u-u-ugly' things), the first to occupy the high-end market of smartphones and pads.
His name is itself associated with sophistication and excellence. And here comes Tim the Cook. You know, I wouldn't expect much from that appointment. I'd rather wish Mr. Jobs recovery, so that we could further enjoy the show of his flammous competition race.
In this article I would like to ask you for a favour. Leave the oldie alone! Let the greatest force behind great innovations of all times finally enjoy his private life.