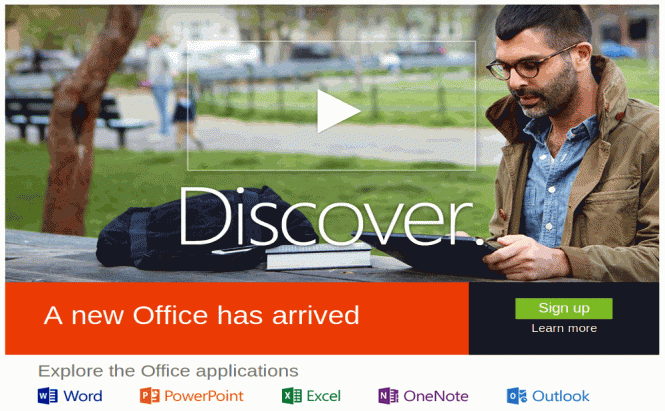 Microsoft Office 2013 - a Brief Preview
Following the announcement and beta release of a new operating system, Microsoft have brought to life a beta variant of Office 2013. This product is supposed to work under Windows 7 and 8, and is said not to support updating from other Offices, except for Office 365. It is centered over it.
What's Interesting About the Office?
First of all every Office component (Word, Excel, etc.) is connected to the Internet. So, all your documents are automatically saved to SkyDrive or SharePoint. This can simplify the life for those who are in need of file sharing because of cooperative work or a school project. As the documents and presentations are saved online, you do not need Office installed as you can open them right in the browser. Besides, the possibility for several people to work upon the same document simultaneously, exchanging opinions and discussing what to do, placing comments right aside the text, seems to be a really comfortable option for the cooperative project work.
Despite the similarities, each application has its own unique features deserving attention.
Word
This time, the design of the Word interface is sleeker and easier on the eyes. It has a new read mode, under which the text you open is automatically put into columns; moreover, the page you've stopped reading at is remembered and reloaded next time. It is said to zoom charts, pictures, or online videos on a finger tap or a mouse click and downscale them back to the initial size on the same move made again. It is possible to open a PDF file and work with it as with a usual Word content.
Word 2013 Zooming
PowerPoint
PowerPoint 2013 features a slightly simplified revamped interface. It has new themes, alignment guides and various merging functions provided. Presenting your work, you can impress the audience by easily zooming charts or important graphs during your slide presentation. PowerPoint 2013 also provides convenient and unnoticeable for the spectators slide switching.
PowerPoint 2013 Window Design
Excel
The new Excel can learn the pattern you use and recognize it later, auto-filling the remaining data with no formulas or macros required. Data visualization process is eased with new analysis tools. They work like this: the application supposes several possible patterns to illustrate your chart and you choose the one you like. Besides the interface of the charts is made more interactive than before and provides quick and simple tuning of the chart's elements.
Excel 2013 Graphs
OneNote
OneNote is redesigned to fit Windows 8. It can be used on devices with Windows Phone, iOS, Android as a Mobile application and can also be accessed via your browser (OneNote Web App). Links, charts, pictures, sketches, media: they all can be inserted into notes. In case you prefer writing to typing, you'll like the app's ability to convert your finger movements into text. Any content put into notes becomes searchable, even words in pictures.
OneNote 2013 Application
Outlook
The new Outlook can be set up to show news from your social networks. This feature is called Social Connectors. It is described by the developer as: "Get the very latest updates automatically from people in the social networks you rely on most—LinkedIn, Facebook, and others." The navigation through mail is said to be quick and convenient to work with. There is no need to open new windows to refresh the information about an appointment or the person you are emailing with. You can share your calendar with others making arrangements easier to be carried out. The working space has an actual weather forecast bar. Finally, you can use fast filters and context commands for mail, contacts and calendar.
Outlook 2013 Weather Bar
Summing up, as I've mentioned in the beginning of the article, all of the Office applications will work through the Internet in either way: just providing access from other devices or allowing cooperative work with files. I consider it being the right thing to focus the developer's attention on. To my mind, the on-line connection as described will be of high demand among students and school children.