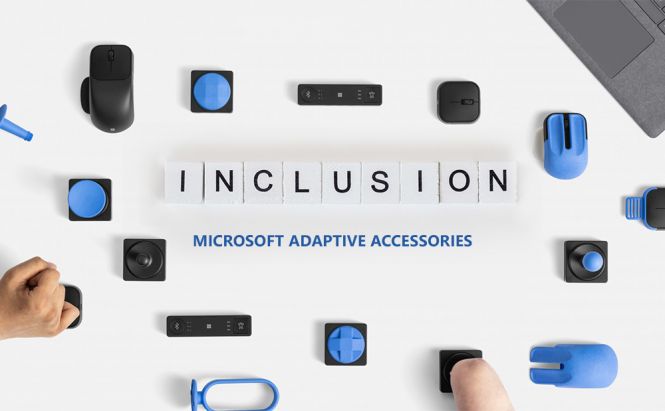 Microsoft introduced new adaptive PC accessories
Diversity of all kinds demands better solutions to different problems. Technology provides new ways to solve issues and offers new opportunities for people with disabilities worldwide. Many tech giants are developing groundbreaking innovations to improve accessibility and assistance for disabled people. Microsoft is one of the companies that has exerted a considerable amount of effort into making their products more accessible. For instance, the company created the Xbox Adaptive Controller and Surface Adaptive Kit for users with limited mobility.
However, these are not the only examples of Microsoft's products designed to make things easier for PC users with disabilities. At the 12th annual Microsoft Ability Summit, the company revealed a new line of adaptive accessories. The lineup includes three different devices: the Adaptive Mouse, Adaptive Buttons, and the Adaptive Hub. The new PC peripherals will be launching in the fall. "Each piece is designed in partnership with the disability community to empower people who may have difficulty using a traditional mouse and keyboard to create their ideal setup," Microsoft said.
Adaptive Mouse
Microsoft Adaptive Mouse (Image credit: Microsoft)
One of the pieces in the lineup is the Adaptive Mouse that comes with various accessories for personalizing its shape and number of buttons. Users can change every part of the mouse, including the core, the buttons, thumb controls, and scroll wheel to find the perfect configuration. The mouse can be wirelessly connected to the hub that is linked to the computer or smartphone. It is also possible to custom print your own mouse tail designs.
Adaptive Buttons
Wireless button (Image credit: Microsoft)
Another adaptive accessory in the line is a set of adaptive buttons that just like the Adaptive Mouse can be customized in multiple ways. Users can choose among different button toppers, including a d-pad, joystick, or dual button or even 3D print their own button topper. The adaptive buttons allow adding up to eight programmable inputs that can act as macros or complicated keyboard shortcuts.
Adaptive Hub
Microsoft Adaptive Hub and Adaptive Buttons (Image credit: Microsoft)
And the third component in the set of presented peripheral devices is the Microsoft Adaptive Hub that can wirelessly pair with up to four adaptive buttons. The hub supports standard 3.5mm assistive tech switches and offers three distinct profiles for use with different devices. It should also be mentioned that each adaptive accessory comes with internal rechargeable batteries.
You can learn more about these accessories by watching the video below.