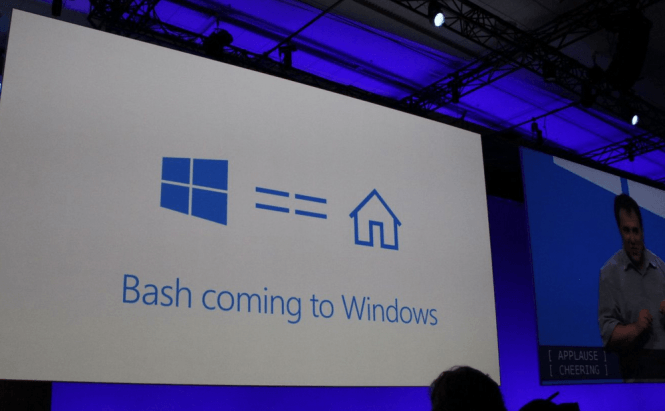 Installing a Linux Bash Shell on Windows 10
Microsoft announced that the Windows 10 Anniversary Update will bring with it a new "Linux Subsystem for Windows". However, those who are in the Insider Preview program don't have to wait that long and already have this functionality enabled. If you're someone who likes Linux, you can easily install a Linux Bash Shell without using any third-party applications, so I've decided to write this short guide and show you how to do just that.
Up until now, if you wanted to install a Bash Shell, you would have needed to create a virtual machine or use some complicated applications specially compiled for Windows such as Cygwin, but that's no longer a problem. Windows 10 can now run Linux-specific applications, the same way Linux offers a compatibility module for Windows software. In case you were curios, this is possible thanks to Microsoft's failed Astoria Project, which was originally designed to allow users to run Android apps on Windows 10.
Before we begin, you should know that this option is only available for those using Insider Preview 14316 or a newer version of the operating system. Furthermore, you will also need a 64-bit version of Windows as this functionality will not work on 32-bit systems. If both conditions are met, here's what you need to do in order to install a Linux Bash Shell on Windows 10:
Open the Start Menu and click on the Settings button.
Go to the Update and Security section.
Select the For Developers category from the left-side pane.
Check the box marked as Developer Mode and confirm your option in the window that pops up.
Right-click the Start button and launch the Control Panel.
Choose the Programs section.
Click on the small button named "Turn Windows features on or off". (You will need administrator privileges to do that.)
Check the box marked as "Windows Subsystem for Linux (Beta)".
Now, your operating system should prompt you to reboot, so make sure you've saved everything and press the Restart Now button.
Once you're back in Windows 10, open the Start Menu.
Type "bash" (without quotes) and either press Enter or select the application from the Best Match category.
Lastly, accept the terms of agreement that will only pop-up the first time you run Bash on Ubuntu on Windows and you're good to go.
You should also know that unlike the actual Linux version, the Bash on Ubuntu on Windows has some limitations that you may not like. For example, you won't be able to work with server software, and graphical software is also not an option. To put it as simply as possible, this interface is mostly designed to merely allow you to control your Windows using a Bash interface. Another disadvantage is that any application that you install using Bash on Ubuntu on Windows will only be available from the Bash window and you won't be able to use it from any other Windows 10 location.
Now that you know about installing a Linux Bash Shell on Windows 10, you might also want to check out some of our other interesting guides such as "How to a create a USB recovery drive for Windows 10", "How to fix Windows 10-related WiFi problems" or "How to enable Cortana, no matter which country you're in"