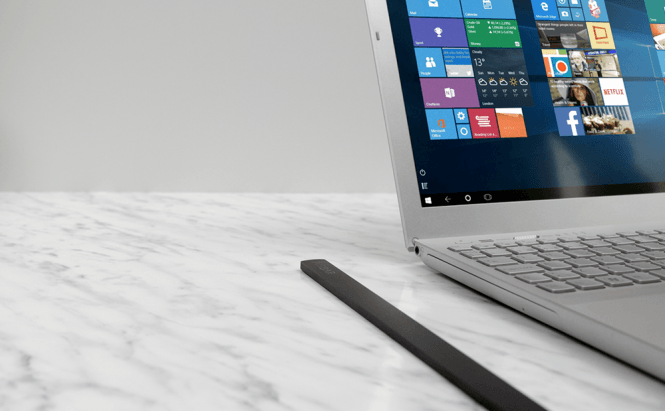 AirBar turns your regular screen into a touchscreen
Personally, I'm very annoyed by the people who actually put their fingers on the screen of my PC whenever they want to show me something. However, a company called Neonode, Inc. decided that since this type of behavior will never change, it's up to them to make the most out of it and came up with a product called AirBar. Basically, this new project will enable you to turn regular PC and Chromebook screens into touchscreens that react to your fingertips.
No, I'm not trolling you; this isn't one of those "download more RAM jokes". AirBar looks like, well... a bar that you place at the bottom of your laptop (it attaches magnetically) and when you connect it to your device through an USB port, it will emit a wall of invisible light over the screen. This light field allows the AirBar to "sense" when you're touching the screen and react according to your hand's position and the gesture that you're making. The gadget works with Chromebooks as well as with any laptop powered by Windows 8.1 or 10, but at the moment, you can only preorder it if you're in the US. AirBar costs $69 and comes in three sizes: 13.3'', 14.0'' and 15.6''. If you're interested, you can find out more and order the product from the AirBar official website.
In case you would like to read about some other interesting gadgets, I recommend checking out: "iXpand Flash Drive can expand your iPhone's storage space" or "Out of the ordinary: smartphone cases you need to know about".