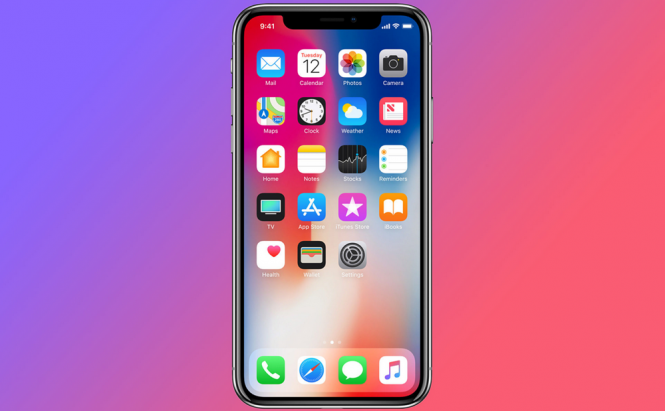 iPhone X: no boundaries, just screen
If you've had any contact with the outside world this week, you already know that Apple has recently unveiled its newest iPhone and the device is generating quite a lot of buzz. Even though I'm not a fan of Apple's products, I've got to say that so far I'm pretty impressed with what I'm seeing and I think that the IT giant has really outdone itself this time. Pretty much everything about the phone is impressive, but nothing stands out more than the all-glass design.
Yes, you've read correctly, the new iPhone is made entirely out of glass with a surgical grade stainless steel band to house the volume buttons on the phone's edges, giving it a very elegant look. Furthermore, the iPhone X doesn't have a Home button. The display itself measures 5.8 inches, which is slightly bigger than the one featured by the iPhone 8 and is OLED Super Retina with HDR display. According to its technical specifications, the screen features an 1,000,000 to 1 contrast ratio and a resolution of 2436 x 1125 at 458 ppi.
iPhone X
Next on the list of important changes are the big improvements brought to the cameras. The iPhone 10 sports dual 12MP wide-angle telephoto cameras on both of its sides, which provide advanced optical stabilization and up to 10x optical as well as digital zoom for photos (6x for videos). Another cool thing is that there is now a portrait mode for both the rear and the front cameras and that you can control the lighting for the photos that you take by seamlessly choosing between several presets. This is due to some powerful TrueDepth sensors which also allow the phone to understand depth and mimic the muscles on your face to animate 12 emojis in real time.
The fingerprint sensor is no longer the main method of authenticating yourself to unlock the phone or confirm Apple Pay transactions. The iPhone 10 relies on a feature called Face ID to recognize its owner. In order to do this, the device uses a 3D depth map of your face mapped through 30,000 points and what's even better is that it keeps up-to-date with your physical changes so that you won't have any unpleasant surprises.
iPhone 10
As far as hardware changes go, Apple touts the new A11 Bionic chip as a huge leap forward, being able to perform up to 70% better than the previously used A10 Fusion. Honestly speaking, I'm a bit skeptical about these numbers, but since the IT giant has rarely lied about its device's performance, I'm not going to jump to any conclusions until I actually get to test the device. The wireless charging feature is pretty nifty and the fact that the new battery will last about 2 hours more than the one featured by the iPhone 7 is a welcomed change. Last, but not least, Augmented Reality is also going to be a big thing on iPhone X, which is another novelty for Apple-made products.
The iPhone 10 will be quite expensive, coming with a price tag of $999, however, since Samsung's Galaxy Note 8 costs $960 it's not like we're actually surprised.