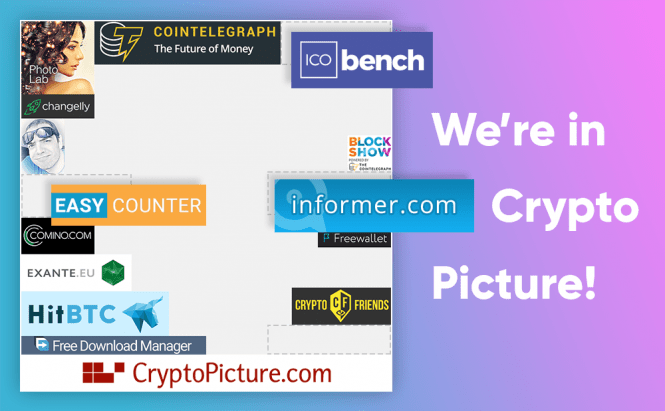 Informer.com is in CryptoPicture!
Dear all!
Recently, Informer.com has participated in the presale of a new ambitious project called CryptoPicture. We were really lucky to buy an advertising space at a fair price! To put in a nutshell, CryptoPicture is a new-generation type of crypto assets and the world's first decentralized ad space. It's developed by a group of genuine experts and it's based on Ethereum smart contracts.
If you are willing to advertise your project worldwide, you can buy a rectangular block (or blocks) of the 1 million pixel canvas, set your project logo and a website URL. Voila, use your block for the new-world advertising. The picture will be widely spread all over the internet. Everyone will see your ad.
The great advantage is that you can manage your pixels however you like: merge or split, sell at the x3 price or transfer ownership. Keep in mind the price is gradually growing from 0.001 to 1 Ether. The principle is simple: the more pixels are sold, the higher the price of every pixel will be. Hurry up to get the best price!
We strongly believe that CryptoPicture will collect the most successful blockchain projects (not only them, of course) in one place in the near future. It's going down in history as the most expensive picture ever. We wish CryptoPicture spectacular success and hope to see it just everywhere soon!