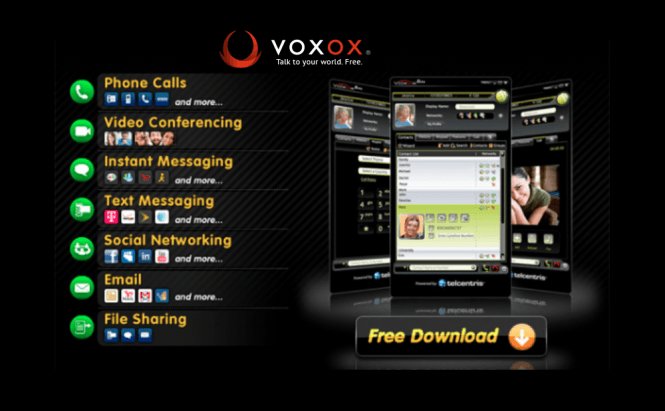 VoxOx - Has a Potential to Compete with Skype
You know how Skype is a popular VOIP service and it seems that everyone uses it nowadays. Those who think that the traditional phones are dying out are right. I believe in just a decade there will only be cellular phones and VOIP based home phones - they are cheaper, just as reliable, and has advantages over the landline phone service. However, this article is not about advantages and disadvantages of the services, it is about Skype and its alternatives. Currently home phone VOIP market in the United States is dominated by Vonage. Skype rules the Internet market for VOIP service. Slowly but surely, competition is starting to pick up in both markets. VoxOx is Skype's competitor and I would like to talk more about what it is and what it has to offer.
VoxOx - is a freeware program developed by TelCentris, Inc, a San Diego, CA based phone company. The program can combine all of your contacts from various instant messengers into one convenient interface. Each contact has a name card, where additional information can be added. But that's not all that the program does. It also allows you to place VOIP phone calls to worldwide destinations cheaper than most other companies I have heard of.
Over the last couple of years, Skype has grown steadily and many million individuals and a couple hundred businesses trust Skype. People are not even looking for the alternatives anymore. In fact most people do not even care for alternatives, as Skype offers their services for just a couple of cents a month. And who counts cents, anyway? On the other hand, many people spend hours on the phone and a cent may turn out to be a couple of dollars very quick. Those couple of dollars accumulate to hundreds of dollars every year. It is called foregone opportunity in economics, I call it 'wasted' opportunity. VoxOx offers phone calls for 1.8 cents, which is quarter of a cent cheaper - not much, but if you are using your phone a lot then quarter of a cent is also a lot. Consider you are talking on the phone 500 minutes a month. You spend 9 dollars with VoxOx service and 11 dollars with Skype. As you double the amount of time you are using your phone, the difference doubles. Two, four, and six dollars (assuming you are not going to talk on the phone more than 1500 minutes, which is 25 hours a month) does not seem to be a huge difference, but the savings are apparent - every 5th month is free of charge if you consider your savings from using the service that is cheaper of the two given, and invest those savings back into the service. As a result, your savings could be of about 20 dollars a year.
However, those 20 dollars savings do not mean a thing if the service is unreliable. Skype has outages, but it happens extremely rare. After the latest one, the company decided to upgrade their protocol and expand their infrastructure, but the whole system will always be flawed and dependent on nodes and authentication servers way too much.
To try out VoxOx, I put in 5 dollars into their service. The money left from my account within the next minute after placing an order, those five dollars did not make it into the VoxOx account three days later. One more day, and I am doing the charge back on my card, because this is insane! When you are putting 5 dollars into your Skype account, it is there within the next 2 minutes.
Despite, the fact that I was unable to test out this new service, I believe there is a huge potential in this program. First of all, the rates are cheaper. You can get a US/Canada local phone number. You get a collect call capability – so your poor but dear relatives can be calling you for your money. I mean after all, you get the choice to pick up the phone or let it ring.If you are away from your computer and you're getting a call, it can be transferred to your mobile phone. In the cases of the missed calls or other events, VoxOx sends a text message to your cell phone. Also, unlike with Skype, you know what kind of security protocols are used by VoxOx and where they stand vs. European Union's demands and policies.
At any rate, I believe this program will have a bright future ahead of it. All the bugs will be worked out, the service will become a lot more stable, therefore reliable. I mean, I studied marketing in college and know all the tricks but the program's website, though confusing, made me want to try out this program, so they've already done something right.
At this point I wouldn't go as far as making this service the only one I use. It will have to be a combination of Skype and, maybe, ooVoo, or VoxOx for now. At a later day, when I fully test VoxOx and the quality and the price are adequate, I wouldn't hesitate switching to VoxOx completely. I have my beef with Skype and its service. I wish TelCentris best of luck, and I hope their product will establish the new brand for VOIP services over the Internet and more.