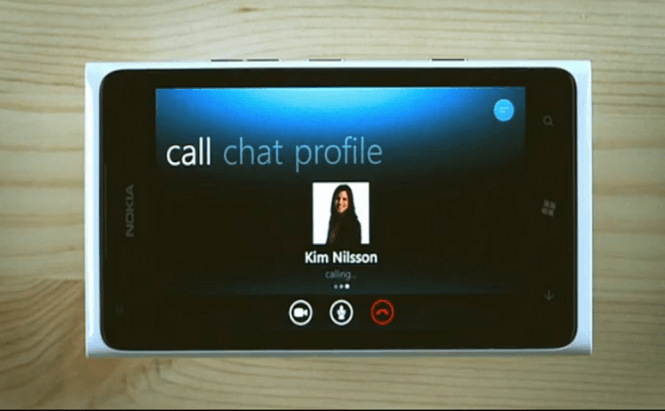 Skype Launches a Version for Windows Phone
The Internet has radically changed the lives of millions of people. For example, we have completely forgotten what it means to write letters by hand, and then wait for months and weeks expecting a reply. Advanced technologies such as Skype have greatly simplified communication, shortening the entire process to a few seconds. Over the past decade, Skype has become an integral part of our lives, and for many of us it has become essential in all aspects of communication.
Skype is available on multiple platforms: Windows-based computers, Macs, and a number of mobile devices. Surprisingly enough, Skype has not had an official Windows Phone application until recently, despite Microsoft having acquired Skype over a year ago. The beta version of the app has been available for download since February 27; as for the stable release, the developers claim that it will be launched in April.
Skype Windows Phone logo
The release highlights of Skype for Windows Phone
Einstein is often quoted as saying, "Simplicity is the purest form of genius". This idea seems very fitting for understanding the key to the success of Skype, which already boasts over 680 million users around the world. Let's see what benefits the new version brings to smartphone owners.
First of all, it allows you to do all the basic stuff that you love Skype for: you can make voice and video calls, write instant messages to people, and have group conversations – these things are still in place. There is a basic set of tools to write messages including smiles. Even the notification system works the same way as on other supported platforms.
A chat interface view
The controls for video calls are pretty simple and resemble the interface we've got accustomed to, with only a few buttons for switching the camera and the speakerphone on/off, and a red button for terminating calls.
What is especially handy, you can turn the display off while talking and even scroll the page without interrupting the call.
However, the smartphone owners should only expect a basic set of features like video calling and instant messaging, nothing more. Developers endeavor to make users aware that this is still a beta version, and that it can be buggy. Even in some release preview videos we can notice several well-known bugs: video calls only working in landscape mode, or no ability to receive any calls when the app is not in the foreground.
What is more, you can send messages using 3G, 4G or WiFi connections. In addition, Skype developers have tested and certified the app for some popular devices, such as Nokia Lumia 710, Nokia Lumia 800, HTC Titan, HTC Radar, Samsung Focus S, Samsung Focus Flash.
Although you have to download the app manually at the moment, the developers claim it will come preinstalled on all Windows Phone devices in the foreseeable future.