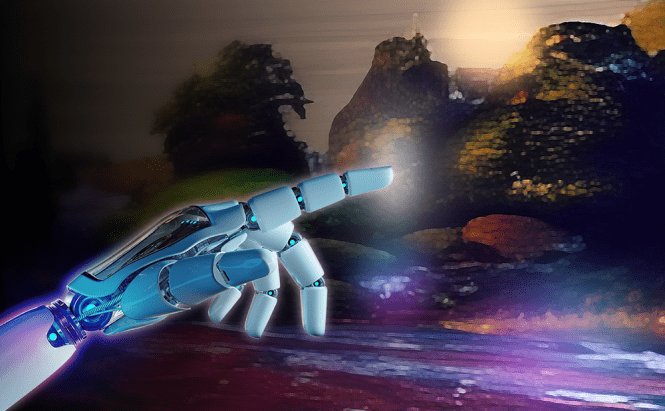 5 Best AI image generators in 2022
AI image generators are complicated tools that can create digital pieces of art based on the artificial neural network technology. You can turn generated images into NFTs, use them as illustrations or inspiration for your own art. The process of making neural network art from your textual descriptions is fascinating and almost addictive. We have gathered five services based on neural networks that will help you create your own bizarre and captivating images.
AI art generated by Midjourney
Midjourney
Midjourney creates amazing artwork from the keywords that you type. This new AI-powered tool has recently moved into the beta stage, and now anyone can join the developer channel on Discord and test the algorithms in the chat. To start generating images, read the rules of the community, enter the /imagen command, and then write your query. As a result, you get four images. Optionally, you can increase the resolution of digital images or ask the artificial neural network to make new ones in the same style. You can generate the first 25 images for free, and if you need more, the cheapest plan starts at $10 per month and includes 200 images.
NightCafe
NightCafe
Nightcafe is an AI-based art creation tool that implements the neural style transfer method to generate stylized versions of an uploaded image. It provides an extensive set of templates. Moreover, NightCafe comes with an impressive collection of filters and styles to apply to your picture and turn into a masterpiece in seconds. You can try the tool for free, but the free tier will let you create up to 5 artworks per day. To generate more images, you can purchase a credit pack for $9.99 USD per month.
Deep Dream Generator
Deep Dream Generator (Image credits: Spirit)
Deep Dream Generator is a computer vision platform made by Google that generates works of art with the help of artificial intelligence. It can quickly make an enigmatic psychedelic video or draw some unique pictures that are typically filled with slugs, dogs and eyes. All you need to do is upload an image, select among different styles, namely Deep Style, Thin Style, or Deep Dream, pick a category, and preview the image. Moreover, you can create images in various painting styles so that they seem to be made in different places or periods of time. Deep Dream Generator allows users to process multiple pictures for free. However, if you want to create more images with higher resolution, there are three paid plans starting at $19 per month.
DALL-E 2
DALL-E 2
DALL-E 2 is a popular AI image generator that can create high-resolution digital illustrations, paintings, and 3D art from textual descriptions. It can reproduce different styles like steampunk, cyber noir, or abstract art or create impressive charcoal or pencil sketches. You can customize your image by working with different layers, adding shadows and highlights, and using a paintbrush and other tools. DALL-E 2 is now in beta. You can generate images using free credits that refill every month or purchase extra credits at a price of $15 for 115 credits, which is enough to create 460 images.
This Person Does Not Exist
ThisPersonDoesNotExist
This Person Does Not Exist is a website that automatically generates images of people based on millions of processed pictures. The system analyzes them and creates a collective image. The photos are totally fake, even though they look pretty real. The service is powered by Nvidia's StyleGAN neural network. Each time you refresh the page, you get a new randomly generated face. Here you can also find highly-realistic images of cats automatically generated by StyleGAN.
AI-powered services are creating amazing images these days. Every AI image generator in this article is astonishing and unique in its own way. We hope you will enjoy creating your own artwork with the assistance of neural networks.