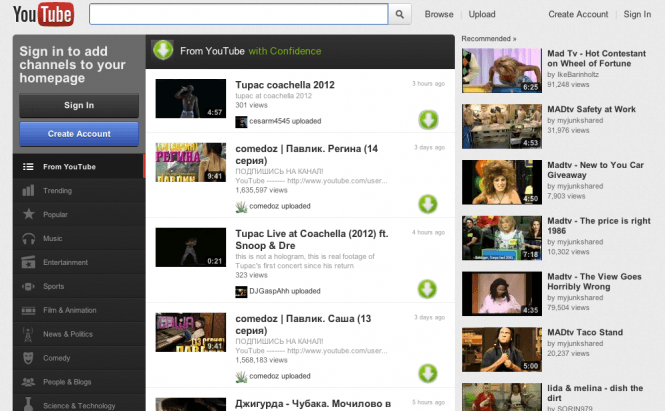 Download from YouTube with Confidence...
YouTube is an awesome service and I use it a lot – watching music videos, crazy stuff people do, clips about alive slime in North Carolina's sewer (really gross), snippets from news broadcasts gone wrong and much more. The only problem I experience while watching those videos is that Youtube takes up all the bandwidth, even if it is not the first time I am watching the particular video. I understand that it is impossible for the site to cache all the videos, but c'mon... downloading the same video many times on end is no solution as well.
Luckily, there are programs that let you download those awesome YouTube videos, so you can enjoy them anytime, anywhere. Just keep in mind that it is not always legal to download videos from YouTube. Some of the content is only licensed to be shown on the site, while Google collects money from displaying those annoying ads on YouTube. Downloaded clips will not have those ads, hence reducing YouTube's purpose to video hosting, but only from the corporation's point of view. But there are videos uploaded to the site by regular people like you and me, and those videos are supposed to be public domain and hence free, but you never know with all them corporate sharks, so just be careful.
I am very skeptical about installing programs that I am going to use only once. I prefer to have everything done online and not on my CPU. That's why I use Meebo for all my instant messaging, Google's reader for RSS aggregation, DropBox for storing files, watch TV shows on Hulu and use Gmail for emailing. If I could use a cloud web browser (one that would be running on some remote server), I would. But the reality is that some of the programs have to be installed on my computer. While you can find a bunch of sites that will extract audio from online flash-based sites, or convert video online for you to download, programs that are installed on your computer work better for this purpose. I've used a couple of websites designed for that purpose, the process was very slow and oftentimes unsuccessful. In short, use a program to download videos from YouTube or other video hosting web sites.
Free YouTube to Mp3 Converter
Free YouTube to Mp3 Converter extracts audio from Youtube videos and converts it to MP3. It is a very simple program to use. Just copy and paste the link to the video you wish to extract audio from, set the desired settings, and hit Convert. It will take some time to extract and convert the audio, but the result is outstanding, especially if you spend a minute and adjust the settings to your liking. Just like that, in under 5 minutes I got myself 4 awesome ringtones from my phone.
Free YouTube to Mp3 Converter in Action
Now we will try to solve the problem of the repeatedly wasted bandwidth of your Internet connection. If there are videos on YouTube that you cannot stop watching over and over and over again, then you probably should download them and enjoy those videos on a bigger screen, unless you already use your TV for watching. Since some of the YouTube videos are large, web browsers only cache them for one session. If you are to watch the same video again tomorrow, you will find yourself buffering (which is downloading) the clip from scratch. Most of the time, you won't experience problems browsing the web, but clearly, that is an example of waste – wasted traffic. Simply download the video and enjoy it at a later date, even without the Internet connection.
Free YouTube Video Downloader version 4.0 claims to be able to download videos, but once you try it you will get a message saying that it is unable to download from YouTube due to changes made in downloading schemes on the web site. When you think about it, it makes sense that YouTube would often change their server schemes to prevent people from downloading videos, so that you'd have no other choice but to check out YouTube's ads. Smart!
Free YouTube Video Downloader version 4.0
Use Free YouTube Download version 3.0 instead. Yes, just like its brother Free YouTube to Mp3 Converter, it comes with some toolbar that you can disable during the installation, but it does its job perfectly. I've downloaded and converted some videos and I have nothing to complain about. Now my parties will feature music videos, which is awesome.
Free YouTube Download Version 3.0
In fact, the two programs that worked for me are made by the same company - DVDVideoSoft Limited. There is a whole suite of programs available for download. If you do not mind having tons of rarely used programs on your computer, then this suite is for you. On the other hand, you will never need to install tons of programs just to see if they work, because you've got DVDVideoSoft's products.